The World of Rosé Wine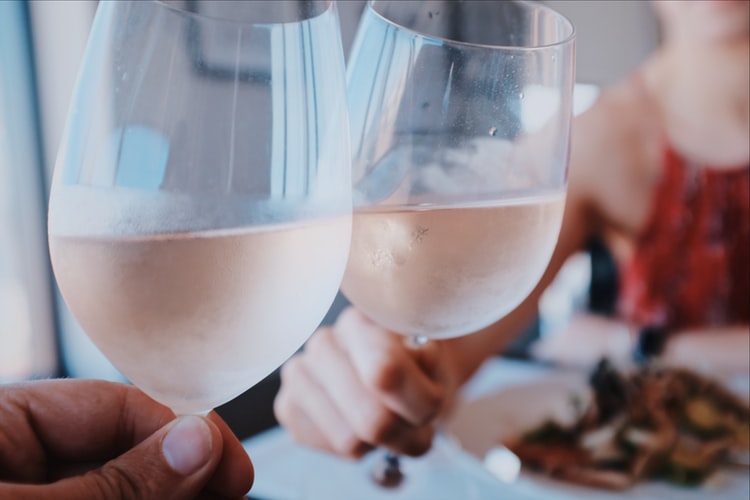 With it being summer, we find ourselves drinking more and more rosé wine; there's something about the delicately fragrant, refreshing nature of it so just seems to work so well in the warmer months. Yet, we're being a little narrow in our scope here, as rosé is actually a very broad category, with a variety of different wines and styles. From the brooding, dark, almost light-red rosados of Northern Spain to the salmon-pink, ethereal styles of Provence and everything inbetween, rosé is in a good place right now! Whether it's still or sparkling, dry or sweet, rosé is making a come-back.

So, what is rosé all about? Where does it come from, how's it made and who's making the really good stuff at the moment? We're glad you asked! We've put together this short piece to explain all about rosé, including a short history, the major styles, some myths to be aware of and some producers to hunt out. Grab a glass of wine and read on for more!


A Short History of Rosé
Rosé has likely been around in one form or another since prehistoric man and woman accidentally ate rotten grapes, and had a surprisingly good time. The whole premise of rosé is simply a 'pink' wine, made in a variety of different ways. In English, we borrow the French term for pink being 'rosé', yet it goes by many names across the world including Rosado, Rosat, Rosato and so on.

The ancient Greeks were possibly the first drinkers of rosé as an intentional product, which was the result of watering down stronger red wine to avoid excess drunkenness, something that was practiced well into the Middle Ages when styles started to shift and wine took on new meaning. 'Clairet' was the result of a field blend, which was very common during those days; literally where 5-6 different varieties were grown in the same vineyard and fermented together, both red and white grapes. The result was a very light red wine, more akin to a rosé than a more traditional red, both refreshing and delicious in its simplicity.

The 20th century saw the arrival of rosé as a recognisable style and at the beginning of the century, accounted for 10% of all wine production in France, who remain the largest producers and consumers of the style in the world. The love for rosé has been particularly noticeable over the last couple of decades, with more and more producers interested in making a rosé wine as part of their portfolio, and acquisitions of property in places like Provence have really heated up. Rosé is entering its most interesting phase!


Styles of Rosé Wine
Ever noticed that when you're in the rosé section of the wine aisle, that there's a plethora of different shades of rosé? From the dark, almost-red styles to the unbelievably light, salmon-pink wines which seem particularly popular these days and everything inbetween. Like so many things in wine, this is intentional and the result of choices made in the winery. Rosé is a particularly difficult wine to explain without context, not least as there are a few different ways to make it. Here are the 3 most common ways to make a rosé wine:

Blending – Not as common as it once was (fortunately), this old art is now mostly used by producers looking to make something cheap and cheerful. Have you ever been at a picnic or barbecue before when someone enthusiastically pours some red wine into a glass where you still have white wine left? If so, you've seen the result! Blending in rosé wine production is generally taking a very large quantity of a simple white wine, adding a small amount of concentrated red and adjusting sugar, acidity and colour to suit. Needless to say, this is not how the most delicious rosé wines of the world are made, and usually this accounts for rosé wine made in huge quantities, with a lack of ambition behind it. It is possible to make excellent rosé wine this way, however, and this is how most rosé wines are made in Champagne.

Direct Pressing – If you take a red grape and a white grape together and squeeze them, the juice that runs out of both is the same colour; transparent. All the colour a wine has comes from the skin of the grape itself, and that means that, whilst not common, it's very possible to make a white wine from red grapes. Think 'Blanc de Noir' in Champagne where white, traditionally-made sparkling wine can be made entirely from Pinot Noir or Pinot Meunier. This also allows for a delicate rosé wine to be made. Red grapes are brought into the winery and left to soak at cold temperatures, allowing for a very small amount of colour to seep into into the juice. Once this has gone on for 4-12 hours, the grapes are pressed and the skins removed. The result? A lightly pink juice, awaiting fermentation.

Maceration – This is how the vast majority of quality rosé wine is made. It starts as though you were making a red wine; red grapes are brought into the winery and deposited mostly intact (some light crushing is common) into a fermentation tank with the skins included. Fermentation begins as the temperature warms up and the colour from the skins starts to seep into the juice. This is an incredibly delicate operation, as the difference of a single hour in terms of the colour is very noticeable. The idea is that, after around 4-18 hours depending on the intended style, the fermentation is stopped and the, now lightly pink, juice transferred to another tank. It then completes its alcoholic fermentation without any skins left to extract colour from.


Rosé Myths and Facts
As with every wine style, there are more than a few myths surrounding rosé and the way that it looks and tastes, with various stylistic elements being attributed to colour in particular. We thought, in order to clarify some of these things, to have a look at both some myths surrounding rosé wine, as well as some lesser known facts.

"The lighter the colour, the better the wine" - Myth. We don't know where this one came from or who started it, but it's most certainly a myth, albeit one that's often repeated! As explained in our previous section, colour is largely dependent on how long you keep the skins in contact with the juice, and in fact, the wines that have spent more time soaking in their skins tend to have more flavour as a result, as well as a deeper colour. Making a delicately coloured wine that still has real flavour concentration? That's a hard thing to pull off. The colour of the wine has no relation to quality, at all.

"Direct sunshine can make rosé smell terrible" - Fact. This is actually true and something that the rosé wine industry often fails to address. The impact of direct light on wine over long periods is well documented, but what we've recently come to realise is just how damaging it can be in the short term as well. After as little as one hour in the sun, wines can start to smell like mushrooms and cabbage; definitely not the sort of thing you want in your rosé wine! The issue is something called Lightstrike, which causes amino acids to mutate and cause these smell compounds. This is true for all wine but rosé is particularly vulnerable, bottled as it is in transparent glass to show off its beautiful colour. Yet rosé wine producers still often market their wines as something to have around by the pool, sat in a bucket of ice with the sun beaming down upon it.... well, now you know why your rosé might change into a monster without any warning!

"Darker rosé wines are usually sweeter" - Myth. Again, the colour comes into play again on a popular myth. The colour of the wine has no bearing on its sweetness level at all, which is entirely the decision of the wine-maker. This myth exists because of White Zinfandel, a popular, often darkly-colour rosé wine from California that has substantial amounts of residual sugar (25g + per litre isn't uncommon!). As a result, it's common that when people then try rosé wine from places that make darker wines traditionally, such as the Rhone Valley in France or Spain, they're surprised to find that the wine is bone dry! Generally speaking, wines made for the mass-market are more likely to have touches of sugar, just to soften any rough edges and make the wine more easily drinkable.

"Rosé can be a great, age-worthy wine" Fact. The commercial reality of rosé wine is that a lot of it is simple, juicy and refreshing, meant to be drank cold and in the short term. However, there are traditional producers of rosé wine, particularly across Europe, who are making some really serious stuff. Some of these wines can be aged for years and in rare cases, even decades! Just because most rosé is relatively simple stuff doesn't mean that world class expressions don't exist. They certainly do and are well worth hunting out.


Top R
osé Wine Producers
On that note, it's worth pointing out a few top producers of the world! Most of these are artesanal in style and likely not easy to find in your local store, but they're well worth making the extra effort to track down.

France – Domaine Tempier. This quality producer of Bandol makes arguably France's great rosé, made from the Mouvedre grape, soaked in sun on the hill-side slopes near Toulon. Increasingly valued and certainly not the cheapest of rosé, this is what all Provencal style rosés aspire to be when they grow up!

Spain – Lopez de Heredia. Lopez de Heredia's Gran Reserva Rosado is one of the most iconic rosé wines in the entire world; the most recent release is 2008, just to put this in perspective! More akin to a light red yet with all the subtle nuance and delicacy of white, a supremely difficult bottle to track down but so worth it when you do!

Italy – Tenuta delle Terre Nere. Italy produces some wonderful 'rosati' but particularly so on the slopes of the Etna volcano, in sicily, where the volcanic soils contribute high acidity and remarkable minerality to the wines. Best yet, these wines are very affordable! Tangy, fresh and smoky; something a little different!

USA – Sokol Blosser. There's a lot of really interesting, delicious rosé wine being made all across America, yet Sokol Blosser does it for us. Made from Oregon Pinot Noir, the rosé producer here is elegant, crisp and so very refreshing. Lovely stuff!

Australia – By Farr. Another Pinot Noir based rosé but one with real ambition, 'Rosé by Farr' is a real testament to how far rosé wine has come in the last decade alone. Barrel-fermentated, complex and deep, this is a rosé wine to spend some time with.

Argentina – Kaiken. Yes, Argentina is making some delicious rosé as well! Kaiken producer a Malbec Reserva Rosé that's right up our street; darkly coloured and full of ripe, strawberry fruit and persistent acidity. Delicious!

These are some of our favourite producers but there's so many more across the world, all waiting to be discovered. Rosé is really coming into its own! Beautifully coloured, fresh, tasty and often a food friendly wine... it's easy to see why! If you're not a rosé drinker by nature or if you are but tend to stick to the same brands, consider branching out and seeing what's out there, particularly from parts of the world you're not familiar with. There's a delicious surprise or two in store! Cheers to that!
For more on our specially designed wine luggage and more detailed information on how to travel with alcohol, check out the links below: