A Summer of Wine Festivals in Europe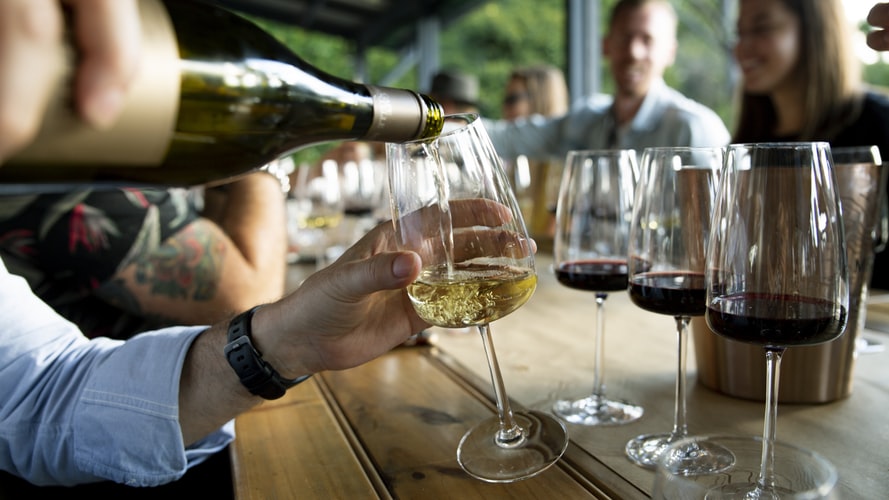 Wine is intrinsically linked with parties, festivals and celebrations of all sorts. Since the ancient days of feasting and banqueting with the ancient Romans and Greeks, wine has had a part to play in the celebration of life. Particularly in Europe where entire regions have hundreds of years of history of viticulture and celebrating harvests, there are a plethora of culturally important, wine festivals that are celebrated annually. Whether it's based around the harvest as is tradition, or as a way to bring summer to life and attract visitors from across the world and experience what a local region has to offer, there's plenty going on across the continent.

To make life easier, we've put together a Top 10 list of some of the most interesting, unmissable wine events across Europe this summer, culminating with the harvest festivals around September and October. Grab your ticket, your passport and your glass; it's time to party!


The Champagne Route
27th - 28th July
Champagne, France

We can't think of a much better way to kick off a summer of wine festivals than with a glass of Champagne.... or 20! A unique, engaging way to get to know the region, this is the right way to stave off the summer heat. A walking gastronomic route that takes you from village to village, eating and drinking your way around the south of Champagne, taking in the sights and discovering the smaller producers.... yes, please! We do this almost every year, along with thousands of other Champagne lovers, and it's become one of our favourite times of the year. Who knows? Perhaps we'll see you there!


Fiesta del Albariño
31st July - 4th August
Cambados, Spain

Every year since 1977, the town of Cambados in Galicia, Spain, has played host to the Fiesta del Albariño; a celebration of this crisp, aromatic white wine so important to the fine wine scene here. On the 31st July, the bagpipes start playing and suddenly, the charming town centre of Cambados springs into life as the festival begins. Aside from the excellent food, parades, street-performers and live music there is of course, plenty of Albariño to go around! Being so close to the sea, this is a wonderful way to spend some of the warmer months this summer and it's a truly special atmosphere. There are special zones for children and 4 days of festivities for people of all ages. Come and discover the magic of Albariño for yourself!


The Véraison Festival
2nd - 4th August
Châteauneuf du Pape, France

Véraison is the period of time in the growing season when the grapes start to ripen and change colour, turning into golden yellow berries for white wines, and deep purple grapes for red wine. In the famous village of Châteauneuf du Pape, this seems as good a reason to celebrate as any other! The town is transformed back to its medieval roots, costumes and all, for these 3 intense days of celebrations and the wine flows! There's not many better ways to spend an August evening that seeing two fully clad knights going at one another, whilst sipping on a beautifully rich, heady wine from this famous region. Pack your medieval costume and get going!


The Colmar Wine Fair
26th July -4th August
Colmar, France

For more than 60 years, this has been a hot destination for wine and music lovers everywhere; welcome, to The Colmar Wine Fair! Located in beautiful Alsace, this is a full 10 days of food, drink and dancing. Whilst we might be going there primarily for the wine, there's no denying the attraction of the musical line-up which includes stars like David Guetta, Placebo, Motorhead and more. 300 stalls are set up throughout the town, manned by talented chefs and wine-makers, all keen to share their passion for food and wine! If you like music, food and wine, this is an unmissable event!


Mangialonga
23rd - 30th August
Morra, Italy

Few have mastered the art of the long-lunch quite like the Italians, and Mangialonga takes that idea and turns it into a brilliant event! Everyday from the 23rd to the 30th August, groups wander from village to village around the rolling hills of Piedmont, eating and drinking something different at each stop. The whole route is 4km, taken at a very gentle pace, and covers some of the most interesting food and wine pairings of Piedmont. An absolutely beautiful way to see the countryside of northern Italy, try the wine and of course, fill yourself up with local delicacies in the process! We're already packing our walking boots!


The Rheingau Wine Festival
28th August - 6th September
Frankfurt, Germany

Germany might be more famous for Oktoberfest when it comes to alcohol related festivals, but they also put on a wonderful show when it comes to wine as well! Over the course of these tipsy days, there are over 50 stalls serving 600 different wines from the famous Rheingau region of Germany, covering everything from sparkling wines, delicate sweet Rieslings, powerful dry wines and an underrated speciality; German Pinot Noir! A great place to discover German wine, eat some delicious local food and perhaps turn it into a wine trip, complete with visits to local vineyards. Prost!


Chianto Classico Wine Festival
5th - 8th September
Greve, Italy

If you haven't visited the dry, rolling hills of Chianti Classico, you're missing out on one of the most effortlessly beautiful wine regions in the world. It's easy to imagine how the Romans made wine and olive oil here, 2000 years ago, with so much history and rustic charm at your fingertips. What better way to experience that, than at the Chianti Classico Wine Festival? In the beautiful town Greve in Tuscany, Sangiovese is King and pours for 4 solid days to the sound of the festivities. Live music, classic Italian food and guided walks of some of the towns most important historical buildings and streets. That sounds like our sort of September!


The Medoc Marathon
7th September
Bordeaux, France

Ok, so this might be a slightly more active wine festival than most, but that just makes it all the more unique! The Medoc Marathon has become a fixture in the wine calendar every year, if only for how insane it is! A full marathon, usually ran in fancy-dress, with wine at many stops along the way? It's hard enough to complete a normal marathon, let alone one where you're inevitably drunk before you've even gotten halfway! The theme this year is 'Super Heroes' and whilst registration to actually compete in the race is now closed, it's worth it to go along, take in the spectacle and then enjoy the following days of good-will and celebrations in the city of Bordeaux afterwards. One day, we hope to enter ourselves!

Rioja Wine Festival of San Mateo
20th - 27th September
Logroño, Spain
By mid-late September, the harvests are in full swing across Europe, and one region to celebrate this in style is the classic, Spanish region of Rioja. Partly local traditions and partly Catholic, this is a week long celebration of food, wine and life in general. The first of the wine is traditionally offered to the Virgin de Valvanera but then, it's all fair game thereafter! From having a go at stomping grapes underfoot to running with young bulls, getting caught up in parades, there's something for everyone here! The charming town of Logroño outdoes itself and sets up special activities throughout the week, so be sure to keep an eye out on the schedule should you go, as you never know what might be popping up next!
Cavatast
4th - 6th October
Sant Sadurni d'Anoia, Spain
If you're partial to a glass of sparkling wine, there are fewer places in the world more apt for you than this special, Catalan festival. As the summer heats die away and Autumn sets in, the charming town of Sant Sadurni d'Anoia opens its doors to Cava lovers across the world, in a 3 day experience of all things Cava. With 90% of the entire production of Cava being made in this one, small town, it comes as no surprise to find that this is a popular event! Well within striking range of Barcelona and full of beautiful architecture, wine shops and small restaurants, this is a lovely way to see in the cooler months!

There you have it: 10 different wine festivals covering the last few months of summer. One year we'd love to take some time off and try to hit them all, but we'd settle for just one or two! However you're travelling this summer, remember to make sure to bring your wine back in one piece and, most importantly, have a wonderful time. Safe travels!
For more on our specially designed wine luggage and more detailed information on how to travel with alcohol, check out the links below: