10 Top Tips for Wine Travellers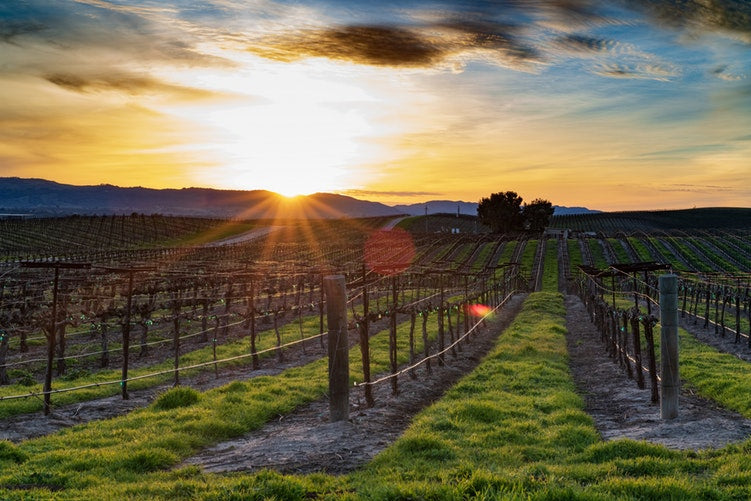 The peak of the 2019 travelling season is upon us and that means holidays! Wherever you are in the world, there's often an opportunity to include a new wine visit into your agenda, if that isn't the focus of your holiday already, of course! Many cities are within striking range of vineyards and make days trips easy and affordable, whilst Europe is alive and well with wine shops, bodegas, bars and restaurants with fantastic wine lists. Not convinced? Take a look through our blog; we're written over 15 different travel guides so far, with information about all of the above and some special recommendations in some of the worlds most famous wine regions.

However, we also thought this would be a good opportunity to look at some general travelling advice, vineyard etiquette and tips for where-ever you happen to be this summer. Whether it's related to the planning of the trip, some hints for getting around easily when you arrive or ensuring that your wine gets home safe and sound, read on for our 10 Top Travel Tips for Summer 2019!


Seasonality

Very much a part of the planning process, but be aware of the seasonality of the regions you're visiting when organising a wine trip. Most wineries are more than happy to receive guests and some have quite extensive enotourism experiences, but for the best results you ideally want to visit when the winery isn't rushed off their feet. A good example of this is during the harvest, when an entire years worth of hard work pivots around a crucial few weeks; not the best time if you want the attention of...well...anyone! In the Northern Hemisphere this generally runs from the beginning of September to the end of October and in the Southern Hemisphere from the beginning of March to the end of April. This changes from region to region, so check in advance if these are your travel dates!


Invest in a Guidebook

I know everyone worries about being 'that guy' with the guidebook and the map, but how else are you supposed to get a feel for a new place? Some of wines greatest writers produce guides to regions and we strongly recommend reading ahead; that way you'll enjoy your trip far more once you're there, with the context already laid out for you. When we toured Catalunya for the first time, the Vinologue Guides were brilliant at giving us a feel for the regions we were visiting, the history, the culture, the wineries and as a result, we were able to soak in far more with much less chaos. Google the region you're planning a trip to; we bet there's a book written about it!


Call Ahead

This is probably the most important piece of advice we can give to anyone visiting a wine region but it's also the piece of advice least heeded. If you're planning on visiting a winery, be absolutely sure to call ahead and book a visit first. Many wineries, particularly in Europe, are family ran affairs and may not even have a system for receiving visitors, let alone a tasting room. Dropping by unannounced and discovering that there's no way to have a look around because everyone is out or busy, is probably the biggest source of disappointment in wine related travel, yet so easy to avoid.


Local Advice

Once your feet are on the ground and your holiday has began, don't become too locked into your guidebook or plan. Whilst reading ahead is an excellent way to plan the structure of a trip and understand the context of a region, there's no substitute for first-hand, local knowledge! We all know that reviews can be out of date, that restaurants, bars and hotels can all change owners. If you arrive in a destination and get chatting to the locals, find out where they eat. What do they enjoy doing? Not only will it build a rapport and link you into the local community, but it'll give you valuable insights for your trip. Some of the very best restaurants, particularly in rural wine regions, look awful on Yelp and Tripadvisor. Don't be fooled; if this is where the wine-maker you met earlier eats, it's a pretty safe bet! On that note.....


Eat Out

We're sure this goes without saying, but particularly on wine trips, eat out and choose your restaurants carefully. One of the great beauties about being in a wine region is that there's simply so much good wine, at such affordable prices. If you're visiting Chianti Classico, the prices for older vintages in a local taverna will make your jaw drop. The same is true across the world. Sure, make sure that the food you're eating is good but keep a particular eye-out for good wine restaurants. As mentioned before, your wine contacts and visits in the region will really know the inside story!


Travel Timings

The tendency when planning a trip is to try and create a packed itinerary, to try and make the most of your time. Whilst this is done with the best of intentions, it rarely works out as intended and often causes a lot of stress, with late visits, grumpy wine-makers and an inevitably tardy finish. Our recommendation? Leave yourself with plenty of buffer room and try to limit yourself to a maximum of 3 winery visits per day. Far better to spend longer at each winery, really learn their story and have the energy to digest it rather than rushing from place to place, rapidly tasting before you're back on the road again. Oh, and do try and fit most of your visits in during the morning time; we can guarantee that a long, heavy lunch will sap your energy in the afternoon!


Winery Etiquette

Visiting wineries isn't the same as visiting Royalty, yet there's still some semblance of etiquette to observe. We wrote a whole post about it here, but these are the most important:

Perfumes and Aftershaves – Leave them at home. There's nothing worse than going into a tasting and being next to a person who, whilst admittedly smelling lovely, is masking the subtle nuances of the wine in front of you, due to their perfume. You'll be fine without it for a single trip.

Spitting – This is often something that people really struggle with, but you absolutely shouldn't worry about it! In the wine industry, most of the wine that we taste is ultimately spat out; otherwise we'd be drunk for the whole day. There will be spittoons at every tasting, so make sure you save your liver space for the really good stuff, assuming you're not driving, of course!

Questions – Ask, ask, ask away! The whole reason that winery visits exist is so that wine-makers, viticulturists and general vineyard workers can share the secrets and the science of their jobs. If you have a burning question, don't be afraid to ask it!


Buy a Bottle

Well, sure, that's part of the reason you came! You'd be surprised, though, how many people visit wineries and come away empty-handed. You certainly shouldn't buy something if it's really not to your taste or not particularly good, but if you enjoyed the wine and had a good visit, it's common courtesy to buy a few bottles. Often, if there's a fee for the visit, you'll be surprised at how often this is waived if wine is purchased at the end of the trip. It's a win-win for everyone involved; the winery makes money from taking the time to invite you into their workplace and home, you go home with your bottled memories and your friends all benefit when you inevitably end up sharing it with them!


Understand Tariffs and Taxes

It's been our experience that the element of wine travel that people worry about the most, is how many bottles they're allowed to bring back, how much it costs and so on. There's not a lot of information surrounding this, so we created our 101 Guide to help clarify things. You'll be amazed at just how easy and affordable it can be to bring wine back with you, with a few exceptions.
Travel with Care

We're a wine travel company, so it probably comes as no surprise to hear that we take the transportation of wine pretty seriously! We discovered, first-hand, just how frustrating it is to find the wine you've brought or sent home, after a wonderful trip, is ruined. Whether it's breakages, lost parcels or the most common cause of ruined wine, heat damage, the cargo is simply too precious to leave up to chance. So, we've spent years designing and testing different solutions to allow you to bring wine around the world with you, with ease and peace of mind! Check it out!

We're looking forward to a packed summer and we hope you are too! If you're in need of more information, dig deeper into our blog for wine guides, information about wine travel and much more. Until then, travel safely and Sante!
For more on our specially designed wine luggage and more detailed information on how to travel with alcohol, check out the links below: