Wine Travel in 2019: Where to Go and How to Do It!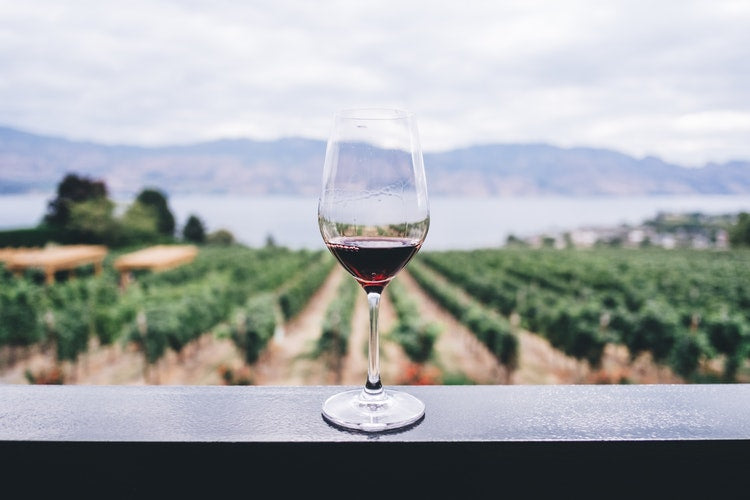 Spring is around the corner and we're starting to get itchy feet! It's the time of the year when the traveller awakens inside all of us, and we start to get ready for the first holidays of the year. Whether it be a quick city break or something more adventurous, you can be sure that if we take a holiday, there's going to be wine involved! We've written countless travel guides based on our own travels around the wine regions of the world, but we thought we'd take the opportunity to condense some general wine travel tips for 2019. After all, the world of wine changes every year and whilst there are some solid rules and tips to follow, there's also always something new on the horizon!

Whether it's help planning your trip, travel guides, learning something new about the world of wine or, our speciality, how to bring wine back with you, we're here to help! We're constantly publishing new articles, guides and informative FAQs to help wine lovers get around the world and enjoy the world of wine in new, exciting ways. Read on for some of our most popular articles!


Wine Travel Guides

First and foremost; where to go! Even as relatively seasoned wine travellers, we're constantly amazed by just how how of the world we haven't seen yet, and it seems to get bigger every year. Narrowing this down is tricky, but here are some suggestions:

The Long Haul Trip – Mendoza, Argentina. Looking for a long trip with a wine element to it? Argentina is a remarkable holiday in itself, particularly if you're a fan of meat and wine! However, visiting Mendoza is quite something. 75% of the countries wines hail from this desert which, by all rights, should be hostile to any sort of grape growing, yet thanks to cool nights, elevation and snow melt from the Andes, some of South Americas best wines are being produced here. Better yet, we've produced a full guide for you with some winery and restaurant suggestions to dig into! Your Wine Guide to Visiting Mendoza

The Budget Trip – Porto, Portugal. Visiting wine regions can sometimes be expensive, particularly if you're planning on bringing large quantities of wine back with you! Fortunately there are still some wonderful destinations out there that don't cost a fortune to visit. Our choice of them all? Porto and the achingly beautiful Douro Valley. There's plenty of non-wine related activities to enjoy in this medieval city, but with the Port Lodges just across the river and a White Port and Tonic to enjoy in the sunshine.... ah, you'll be dragged into the spirit of it before you know it! Read The Essential Wine Guide to Exploring Porto and the Douro Valley for some more detailed information and tips for your visit.

The Traditional Vacation – Florence, Italy. Whilst it's always fun to make a wine focused trip, sometimes it's nice to have it as a smaller element of a more traditional holiday. One of our favourite destinations to get lost in it all? Florence. The Heart of the Renaissance and still full of incredible museums, architecture and more delicious, Tuscan food than you can shake a stick at. Then, once you've had your fill, there's a whole wine scene to dig into, whether it's a day trip outside of the city or discovering some of the remarkable little wine bars hiding in the winding streets of Florence. We can't help you with the rest of the trip but if you need some wine recommendations, we've got you covered with our Guide to Drinking Tuscan Wine in Florence.

The City Break – London, England. Sometimes, it's the cities that you least expect that can offer the very best when it comes to wine related trips. Would you believe us if we told you that one of the very best wine scenes in the world is in....London? Really! This bustling city of trade and commerce is alive with the sound of popping corks, including some of the most celebrated wine lists out there. We put together our Top 10 Wine Bars and Wine Shops in London, so you have all of it in the same place. Once you've finished your sight-seeing, it's time to explore a few of them!

The Summer Holiday – Barcelona, Spain. When summer-time arrives and you need a holiday for the whole family, somewhere warm and close to the sea is usually a good choice! How about the Mediterranean city of Barcelona? From the most fantastic tapas, trips to the beach and more untouched medieval architecture than any other city in Europe....oh, and quite a bit of wine too. There are 11 different wine regions within striking range of the city, more wine bars than you could possibly ever hope to visit even if you lived there, and of course, the birth-place of Cava is barely 30 minutes away. Don't forget to read The Ultimate Guide to Drinking Catalan Wine in Barcelona. Salud!

Wine Reading

So, your destination is set! You've got a while to read up on the specifics, book your visits and generally plan your course of action. Wine trips are also a great opportunity to expand your knowledge of wine in general, and the momentum of getting ready to visit a wine region usually ends up with us doing some studying, in the most fun way possible! We've got a few ideas for you, on this front:

Winery Etiquette – Preparing for a trip is always part of the fun, and with wineries there are additional aspects to consider. Fortunately, we put together The Dos and Donts of Enotourism for just that reason! Always a good read but particularly relevant for anyone heading on a wine trip! This isn't one for those of you who regularly visit wineries, but if you aren't, this is an invaluable guide to preparing your trip and making the most of it whilst you're there.

Viticulture – Trying to understand the vineyard is one of the most important aspects in understanding wine, yet also one of the most complicated. Some of the most commonly asked questions in wine relate to terms like 'Organic', 'Biodynamic' and 'Natural' wine, and what it all means. Whilst understanding viticulture is a lifetime of study and learning in itself, we put together a short guide to help you get to grips with the basics, as well as understanding the difference between these different practices when you see them on wine labels. The Differences Between Organic, Biodynamic and Natural Wine.

Wine Economics – Ever wondered why that bottle of wine costs as much as it does? Everyone does, in truth, and it's certainly not easy to figure it out. There's a lot of things that goes into the equation, as well as the simple, irrefutable truth of supply and demand. Visiting wineries is a brilliant exercise in understanding this, as you get to grips with the realities of productions, costs and where the wine is eventually sold. Before you do, perhaps our article on Understanding Why Wine Costs as much as it Does will give you some inspiration to dig deeper!

Wine Myths – The only similarities between the wine industry and the fitness industry is how much misinformation seems to circulate in both! One of the most enjoyable articles we ever wrote was busting a bunch of them, and correcting the commonly misrepresented information that seems to constantly shift around the internet. From understanding the role of sulphites, what those tears down the side of the glass really mean and what the deal is with screw-caps, you can learn a lot in a short time from Busting Wine Myths!

Understanding Wine Labels – Nearly all the information you need to know about a bottle of wine is on the label, it's just often hidden from site by a cryptic language. Learning how to read a wine label is one of the most important skills you can learn in the world of wine, allowing you to access a huge amount of information at a glance. Ever wondered what all those French words mean? Why does 'May contain sulphites' really mean? Does 'Reserva' actually mean anything? If any of these questions have ever bothered you before, reading our article about Understanding Wine Labels will really clear it up!

Wine Travel and Storage

Once you've finished and enjoyed every moment of your trip, it's time to get the wine home with you safe and sound. Fortunately, that happens to be our speciality here at Lazenne! We're wine travel experts and our entire reason for being is to help wine lovers bring their wine around the world with them, one trip at a time. Here are a few pointers for the most commonly misunderstood aspects of wine travel:

Transportation – Ah, our speciality! Bringing wine back with you from a trip is a pretty special experience, particularly when you get to open those bottles up at home with your friends and family, often months or years later. Wine taken back with you are bottled memories and the most important thing is that they arrive, safe and sound. Our Lazenne Wine Check was designed with just this in mind. 6 Reasons Why you Need the Lazenne Wine Check in your Life!

Wine Tariffs and Taxes – The thing that people worry about the most when it comes to bringing wine with them is how much it's going to cost. The truth? Often much less than you might think! Most countries have quite flexible allowances in how much wine you can bring with you, and even those that don't often don't charge very much. Don't believe us? Be sure to read up on Our Guide to Taxes, Tariffs and Duties in Wine.

Wine Travel 101 – If the two articles prior to this didn't answer your question, we're sure this one will! Whether it's wondering about specific airline allowances, taxes and duties by country or even just links to more specific information, this is where you'll find it. Flying with Alcohol 101

2019 looks fantastic already! These are just a few of the articles we've written with the aim of helping you explore the world of wine more readily, and get the most out of your experiences. Do check out our blog page for more, and keep your eyes peeled every weekend for new information, links and articles. Until then, happy drinking!

Did you know you can get social with Lazenne? We share information constantly through our social media, and our Facebook Page in particular is a great source of information about the world of wine. Stay in touch!