The 7 Essential Rules of Food and Wine Pairing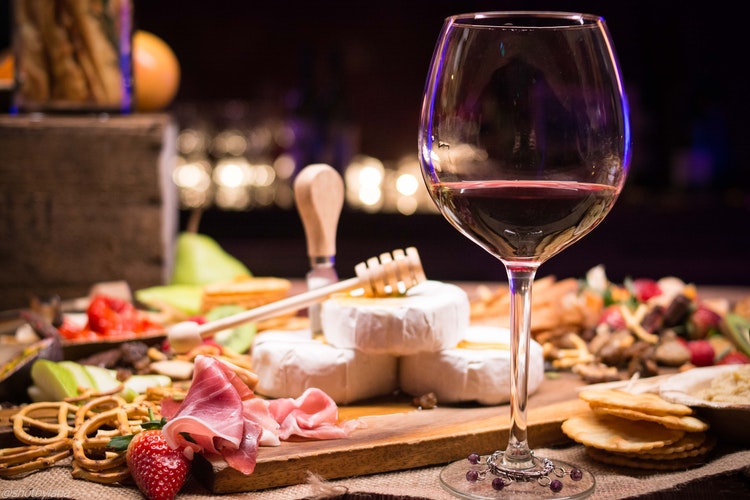 Humans have been making wine for thousands and thousands of years, dating all the way back to our origins, whilst we were trying to figure out how to make wine, sharpen sticks into spears and trying not to get eaten! A long time before wine bars, beautiful glassware and an understanding of terroir, we've been sharing vessels of wine together, to celebrate, to refresh ourselves and most importantly, to bring a dinner to life. Ah yes, the dinner party. It's sometimes easy to forget that wine has its place first and foremost on the table, where the right combination with food will create an experience far greater than the sum of its parts. We've come a long way from the recipes dictating the addition of herbs and honey to wine to make it more palatable, and wine is often now the centre-piece that dinner is built around, depending on how your priorities are set! But how does it all work? What are the Dos and Donts of food and wine pairings? What should we be aware of?

Finding a suitable food and wine combination isn't rocket science, it just takes a little bit of practice and an understanding of the basics. Whilst sommeliers perfect their profession by maintaining a wine list and recommending food and wine pairings in restaurants, there's no reason why this should end there! We're constantly playing and experimenting at home ourselves, and some of the very best combinations we've tasted have come through our own efforts. We thought we'd take the chance to lay out some of our tried-and-tested rules which, whilst not exhaustive, are a solid framework for enhancing your own dining experience with the right wine pairing. There are 7 rules we thought are absolutely essential, so regardless of what you have planned for dinner tonight, read on and be inspired to choose something a little different!


First and Foremost
Before we look at the basic rules of food and wine pairings, it's important to point out a simple truth: Food has a far greater impact on wine, than wine has on food. It doesn't matter which way you prioritise the arrangement, just be aware that it will be the food that ultimately controls the pairing. The very best food and wine pairings are inevitably simple, yet work together in a perfect harmony. Let's have a look and see how we can work towards just that!

Matching Weights

There's a reason that weight classes exist in combat sports; a larger, more powerful fighter will quickly smother and eliminate a smaller opponent, assuming equal skill levels. The same is true of food and so arguably the most important, and basic rule of food and wine pairings is getting this in accordance. Remember the old "White wine with fish, red wine with meat" rule? Well, now we know there's a lot more options out there, but it has some historical wisdom. Red wines tend to be fuller in body, higher in alcohol and generally heavier than their white equivalents, making them a more suitable match for red meats. Conversely, the higher levels of acidity and lighter bodies of white wines vs most reds means that they're far more suitable for delicate fish dishes.

Now, there's always exceptions to this rule but a delicate wine is going to be smothered by a much heavier food, and you'll struggle to taste it under the weight of your food; good luck to your Chablis if you're eating it with a Porterhouse Steak!. Conversely, a delicate dish is going to have to fight to be heard above the power and weight of a 15% wine from Priorat! Don't forget, the idea is to make the overall dining experience better, so it's important that your wines are roughly in sync with regards to their power and weight. As far as wine is concerned, this means alcohol levels, tannins and general flavour intensity – don't match your glass of Prosecco with wild boar stew!


Keep it Fresh!

Hugh Johnson once said that acidity is the nervous system of a wine, and we fully agree. It's the freshness, the verve and the life of a wine, carrying the flavours and making you go back for another glass. In wine and food pairings, it's absolutely essential to have a wine that has a higher level of acidity than the food, as otherwise your wine will feel flat and lifeless, whilst your food will be largely unaffected. This isn't normally a problem as most wines have a good level of acidity, but when eating foods that are cooked with citrus fruits or have a tomato based sauce, it's worth double checking!

As a general rule, white grape varieties like Riesling, Albarino, Sauvignon Blanc and Chenin Blanc all have a high level of acidity and make for ideal partners with fish dishes with lemon, cerviche and salads with highly acidic dressings. Sparkling wines also work well on this front, and one of the best pairings we've ever tried was the highly unlikely Champagne with Fish and Chips; really! For tomato sauces, Italian wines are at home here. Try a Sangiovese or Nebbiolo based red wine, accounting for taste and style.


Hot, Hot, Hot!

Spicy foods always pose a particular problem for wine pairings, as the exotic spices and heat are generally exacerbated by high levels of alcohol; even beer isn't a particularly great pairing with very spicy foods! However, a light white or slightly sweet wine is perfect, particularly the latter. The moderate sugar levels in a slightly sweet wine will typically help moderate the spice, preserving the pure, fruity flavours of the wine whilst adding a cooling freshness to your dining experience. Try Kabinett and Spatlese Riesling wines from the Mosel Valley in Germany, or an off-dry Gewurztraminer from Alsace in France the next time you opt for spicy food!


What Grows Together, Goes Together

Speaking of historical wisdom, there's perhaps none better than local regional pairings. Whilst we can be very adventurous in 2019, with a world of wine and food styles to choose from, there's a lot to be said for tried-and-tested combinations that have stood the test of time. Whether it was the wine or the dish that came first is hard to say, but some of the worlds greatest food and wine pairings are local and regionally important. Dusty, firm and fresh Chianti Classico pairs perfectly with pizza or pasta with tomato sauce in Tuscany, Italy. Crisp, zesty Sancerre from the Loire Valley in France cuts through the locally produced goats cheese, Crottin, like a knife! Dry Sherry brings out the absolute best in simple, fatty tapas in the south of Spain. We're all for experimenting, but do try a few of the worlds classic food and wine pairings from time to time. They're famous for a reason!


Power vs Structure

Whilst some food and wine pairings work based on flavour combinations, structural combinations are just as important and none more so than pairing red meats with the right wine. This is a great example of using a dish to make an otherwise difficult wine open up and reveal itself. Many of the worlds great red wines are highly tannic and often, difficult to drink by themselves; think of the greatest producers of Barolo, Bordeaux, Priorat and Napa Valley red wines and you'll know what I mean. Red meat, particularly on the rarer side, helps lessen the sensation of tannin in red wine, making a wine softer and more approachable, yet it doesn't overtly affect the flavour of the wine itself. Ever had a glass of something that was just so big and powerful, you struggled to drink it by itself? That was a wine just calling out for a big piece of steak to go with it. Big red wines deserve the appropriate food pairing and the results are well worth the extra effort! As a general rule; the rarer the meat, the more it lessens the effects of tannins in the wine.


Sweet Tooth

There's almost nothing more delicious than a dessert paired with the right wine; the combination of sweet flavours, acidity and rich textures is the perfect end to a meal and done properly, can easily be the highlight of an evening! However, it's also quite easy to go astray and it's largely down to the sweetness levels in your wine. As a general rule, you need to be considering a wine that is just as sweet or a little sweeter in profile than the dessert you're eating. If your dessert is substantially lighter or drier than your wine, your wine will taste bitter, flat and unpleasant. Vice versa, if your dessert wine is incredibly sweet and your dessert isn't, the combination will still be disjointed and likely much of the flavour will be coming from the wine instead of the dessert. Matching sweetness levels is important here. If you're serving a light flan, something tangy and light like a Jurancon would be perfect, whereas in Spain, it's not uncommon to serve Pedro Ximenez directly over the ice-cream itself!

It's also worth mentioning the contrast option here as well; sweet vs salty! Finishing the meal with something savoury and salty, like a cheese-board, is also a wonderful opportunity to bring out the dessert wines. Savoury, rich stilton with a vinous Port wine is one of the world's great, traditional dessert combinations, or perhaps a touch of Sauternes to go with the lighter options?


Experiment!

Last but not least, this is far less of a rule and more of a recommendation. The above 6 elements are a really good base for food and wine pairing and will steer you in the right direction 95% of the time. However, variety is the spice of life and we all have different taste-buds, appreciations for flavour and levels of curiosity; be sure to experiment! Some of the wine pairings we now take for granted were devised through just trying it out and seeing what happens. Spicy, peppery Syrah with Indian food? Wow, it's delicious! Mature Bordeaux with KFC? How does that work so well?! The most important thing about food and wine pairing is that you enjoy the combination, so do make sure to venture outside the box from time to time and if there's something you really want to try, absolutely go for it! You've always got the traditional pairings to fall back on for more formal occasions, after all!

As you can see, food and wine pairing doesn't have to be a complicated process and by following just a few basic elements of structure and flavour pairing, you can find the right match for your food quite easily. As you experiment, you'll dig deeper and find that certain flavour combinations buck the trend; it's all part of the fun! So grab a glass, get cooking and enjoy one of the most civilised past-times on the planet. Cheers to that!
For more on our specially designed wine luggage and more detailed information on how to travel with alcohol, check out the links below: